27 April, 2013
"One would think that it is not necessary to explain why it is important to take care of your health, fitness, and wellness. However, many people have misconceptions about how to achieve and maintain health, wellness, and performance in daily living.
This article is a short overview of what yoga and massage therapy can do for you. When I mention yoga, I am also including Tai Chi Chuan, and my work with posture, dance, climbing, and in the performing arts. All of these elements of my experience have resulted in what I have to offer people who come to my studio."…
===
27 January, 2013: At the Lake Oswego Chamber of Commerce meetings, and at the Tualatin Chamber of Commerce meetings, we are told: 'State your name, name of your business, and your tag line in one breath.'
You are on a spinning ball in space, which in turn is orbiting the Sun. Other planets and planetary bodies are also spinning and orbiting the Sun, and the Sun is orbiting within our galaxy. Moons are orbiting planets. Comets…
Stacking bones – how your body is designed to flow energy
28 October, 2012
My work integrating yoga and massage therapy is focused on freeing the body through attunement to classic neutral posture. After many years of study, I have developed a method of attaining classic neutral posture.There are natural physics involved…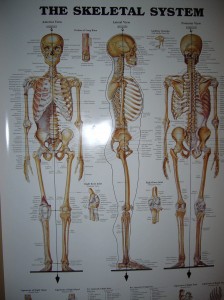 Posture and your body – the grand design
27 October, 2012
Introducing the light form of your body! I am going to explain how your body works to handle gravity, movement through space, and efficiency in movement, in all activities, including sports, dance, and everything that you do! There…
Posture is a  master key to health, wellness, and performance
25 October, 2012
I have exciting news! I have a beautiful new studio location for teaching group classes, right in the nerve center of Tualatin, in the historic Winona Grange Hall, next to the lake at Tualatin Commons. Here's the…
Balance of life is the key to Supreme wellness
30 September, 2009
In every aspect of life, balance is key to Supreme Wellness, Health, and Prosperity. In Zen Shiatsu, in every modality of Massage Therapy, in Yoga, this balance is extremely important. A practitioner in these arts will be attuned to this…
Integrative massage therapy with Zen Shiatsu
17 September, 2009
Zen Shiatsu by a trained and experienced practitioner can be highly successful at helping people to maintain wellness, to regain balance, and to heal dis-ease.Zen Shiatsu was developed by Shizuto Masunaga (1925 – 1981). It represents an…
Beautiful Calendula Flower opens to sunshine each day, and closes up at night to sleep! Namaste! Steve
I am the Organizer for The Portland Metro Yoga Meetup Group, since 2011.
Here are three informative articles that I have written about yoga.
I am the Portland Massage Therapy Examiner, since 2009.
Here is the link to subscribe to my articles:Steve Davis's feed
Latest News and Articles from Steve Davis as Portland Massage Therapy Examiner.